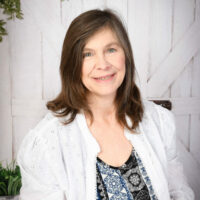 Leisa Rogers
live, Learn, Thrive
I'm Leisa Rogers, I have lived in East TN area since 2001. I am a Certified Special Education Teacher who holds a Bachelor's Degree in Education from Georgia College and State University. I have homeschooled each of my 7 children, taught and tutored many and I love to mentor and encourage families who have children with special needs. I have a great desire to see every child thrive!
What is the Brain Training Program
Our Brain Training uses the PACE (Processing And Cognitive Enhancement) program to boost our students' learning abilities. If your child is bored, frustrated, or discouraged with school, this could be the solution you've been searching for.
To find out if Brain Training is the right fit for your child, we start by completing an evaluation to identify underperforming processing skills. If we find any underdeveloped areas, we use our Brain Training method to create a personalized training program to meet your child's needs.
Once enrolled, your child will work on specific goals with Leisa, our friendly trainer who will carry out the Brain Training activities to strengthen weak areas and bring your child's learning system up to par. Brain Training is designed to achieve maximum results quickly.

This Brain Training Method, PACE has grown in popularity over the last several years because of one crucial fact: PACE makes rapid and permanent changes in a student's ability to succeed in school.
Brain Training Develops Skills In
4 Ways Brain Training Helps Struggling Learners
Engages Young Learners
This Brain Training method is fun, well-planned, and has everything your child needs in one organized system. Students and families love the success rate!
Improves Learning Skills
This Brain Training method develops the underlying processing skills that are critical to learning. This includes auditory and visual processing, attention, processing speed, phonemic awareness, logic and reasoning, and memory. We do this one-on-one with your child through fun and intensive activities. It's all about helping your child become a better learner, one skill at a time
Boosts Grades & Abilities
We find this Brain Training method to be beneficial for students of all ages with learning disabilities, as well as with students who want to be more efficient, get better grades, and more. This Brain Training method is a GREAT way to make a maximum impact on a large number of critical learning skills in a short period.
Builds A Foundation for Long-Term Success
This Brain Training method works on the underlying processing skills that are critical to efficient learning.

Areas of the Brain This Method Targets to Boost Learning
Word Attack
Sounding out words. This allows you to successfully sound out and pronounce any word in the English language regardless of the length or difficulty of the word.
Visual Perception & Processing Skills
Handling information from pictures, drawings, and shapes. This deals with your ability to use maps, graphs, charts, or set up word problems and can help students succeed in math.
Active Working Memory
Your brain's ability to make a protein print called an engram and retrieve that piece of information from your memory.
Processing Speed
How rapidly and correctly your brain can move through written material to find the right information. How quickly the brain processes new information.
Logic & Reasoning
Breaking down complex projects into a sequence of steps. Students who are strong in logic and reasoning like to figure things out on their own, but a short attention span makes this difficult. Logic and reasoning exercises train the brain to focus, pay attention, and concentrate. This can help with ADHD.
Central Auditory Processing
Blending, interpreting, and using the 43 sounds of the English language. Problems in this area often result in difficulty concentrating, listening, reading, remembering, writing paragraphs and papers, spelling, and following directions, and this is one of the best indicators of Dyslexia.
What Brain Training can do for your student
Call (865) 898-7072 to set up a one-on-one consultation.